Aanjibimaadizing, which means "changing lives" in our Ojibwe language, is a service organization operated as a division of the Mille Lacs Band's Department of Administration. The goals of the program are centered on our mission statement:
To assist our fellow Anishinaabe with education, training, work experiences, cultural participation, and support services to be prosperous and change their life.
Aanjibimaadizing helps to empower participants with an acquired purpose or occupation that will contribute to the well-being of their community and family. Through this, we are able to offer services to a large percentage of our community and work closely with other organizations to help all ages embrace their culture and overcome barriers to sustainability. Our services support obtaining and retaining employment, improving or creating a position of job readiness, and addressing barriers that prevent our clients from leading their best life. We are devoted to the work of guiding gidinawemaaganinaanig (our relatives) to a place of wellness, self-sufficiency, and an anchored identity as Anishinaabe.
Gladys Sam
Central Office Receptionist
Tel: 800-922-4457 or 320-532-7407
Karen Pagnac
Training Coordinator
Tel: 320-632-4139
Goals
Our goals for 2019 – 2022 are as follows:
To increase child care services in all Mille Lacs Band districts that will synchronize with Ojibwe language and cultural goals while providing safe environments for children and families. Measured by the number of expanded child care slots and amount of child care assistance paid per year.
To coordinate services with Mille Lacs Band departments and outside agency partnerships that allow clients to maximize opportunities to support holistic health and wellness, while minimizing barriers for clients to increase self-sufficiency. Measured by the number of Memorandum of Agreements or Understanding (MOA/MOU) and by an increase in client participation with outside agencies or entities.
To develop Ojibwe language resources, materials, and training to be used long-term with Aanjibimaadizing clients and all Mille Lac Band members to increase the use of language, number of speakers, and improve the health and education of the community holistically. Measured by the number of books, resources, and materials available at the end of this three-year plan in comparison to current resources.
PEAF
Pandemic Emergency Assistance Funds (PEAF)
At this time, CERA grant funds are only available to Mille Lacs Band Member Head of Households. If you are not a Mille Lacs Band Member please visit renthelpmn.org, or the Tribe in which you are enrolled.
COVID-19 EMERGENCY RENTAL ASSISTANCE IS NOW AVAILABLE
Last year, Aanjibimaadizing successfully administered the COVID-19 Housing Assistance Program (CHAP) grants, helping to access funds for hundreds of clients who were behind on mortgage and utility payments due to the pandemic. Staff in the Aanjibimaadizing program were able to help Mille Lacs Band families with over $800,000 in support.
Now, a similar program, COVID-19 Emergency Rental Assistance (CERA), will help renters who have fallen behind due to issues related to COVID-19 — and the Aanjibimaadizing staff are once again ready and willing to help Band members apply.
You can also contact an Aanjibimaadizing Case Manager or facilitator or visit the office for help with the application.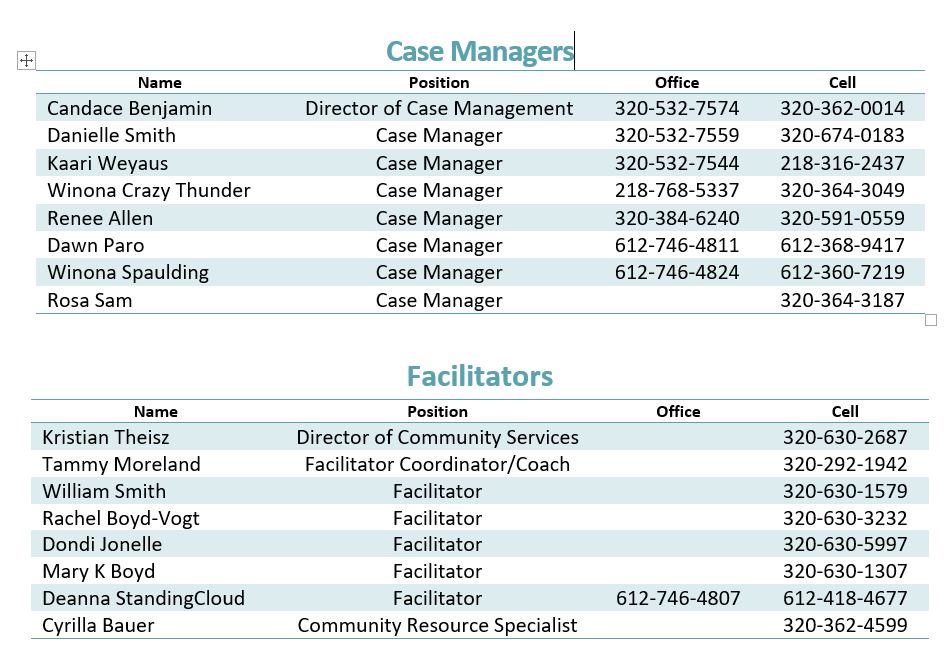 "We understand that many of our Band members have experienced challenges due to COVID-19 — whether they were sick themselves, or furloughed, or someone in their household had unexpected needs," said Aanjibimaadizing Executive Director Tammy Wickstrom. "We encourage you to apply online or give us a call even if you are unsure if you are eligible, and we'll help you through the process."
The program is open to Minnesota residents who owe or are behind in rent or rental utility payments incurred after March 13, 2020, if the outstanding expenses are due to unemployment, illness, or another issue resulting from the COVID-19 pandemic.
Eligibility
An "eligible household" is defined as a tribal member, descendant, or any federally recognized tribal renter household in which at least one or more individuals meet the following criteria:
— Qualifies for unemployment or has experienced a reduction in household income, incurred significant costs, or experienced a financial hardship due to the COVID-19 pandemic;
— Demonstrates a risk of experiencing homelessness or housing instability; and
— Has a household income at or below 80 percent of the federal median income. Household income is determined as either the household's total income for calendar year 2020 or the household's two months of proof of income at the time of application. For household incomes determined using the latter method, income eligibility must be redetermined every three (3) months.
Applicants must provide the following:
Personal identification number from a state-issued ID, driver's license, passport, ITIN, Tribal ID, or other form of ID.
Current rental lease — includes address of rental unit, or have a completed landlord verification form.
Name, address, SSN number, tax ID number, or DUNS for landlord or rental agency.
Total amount of each type of assistance (rent, rental arrears, utilities, home energy costs, utility arrears) needed.
Number of months of rental payments and number of months of utility cost with documentation of amounts owed.
Gross household income of all adults and number of individuals in the household for the past two months, or a tax return for 2020.
Gender, race, and ethnicity for the primary applicant requesting assistance.
Funds will be paid directly to the vendor or company.
Applications will be accepted until December 13, 2021, at 5 p.m. The maximum eligibility period is 12 months.
If you have questions, contact Tammy Moreland at 320-292-1942 or tammy.moreland@millelacsband.com .
Due to the number of calls this program could receive, you may need to leave a message.
Calls will be returned within 48 hours.
Mortgage payments and homeowner utility payments are NOT eligible. As the name suggests, the COVID-19 Emergency Rental Assistance program is only open to renters and landlords. We understand that many homeowners are also struggling with housing costs. We anticipate that federal financial assistance may be announced for homeowners in spring 2021.
OJIBWE LANGUAGE AND CULTURE
It is the purpose of Aanjibimaadizing to prepare the members of the MLBO community to contribute to the Mille Lacs Band. While a primary part of this contribution is in the form of employment that helps enrolled members thrive financially, it is of equal importance that MLBO membership reflects the unique history and culture of its people. As such, the Program also recognizes the vital role of education in traditional cultural and linguistic practice which allows those who receive services to contribute across the whole spectrum of membership in the Mille Lacs Band community. In pursuit of this balance the Program will provide Ojibwe cultural and language training which encourages fluency in the Ojibwe language, at the heart of which lie the values and lived experience of MLBO culture as a whole.
ELDER NEEDS-BASED SUPPLEMENTAL INCOME PROGRAM
Mille Lacs Band members over the age of 62 or over the age of 55 and disabled are eligible for a monthly Supplemental Income benefit based on income need. There are no residency requirements.
COMMUNITY SERVICES TO ELDERS
Aanjibimaadizing has Community Service Crews in all reservation districts that provide lawn mowing, yard maintenance, limited outdoor home maintenance and walkway snow removal for all Elders living in one of the Reservation Districts. These crews are staffed with Aanjibimaadizing staff and Gotaamigozi Flex Program participants.
TEMPORARY ASSISTANCE TO NEEDY FAMILIES CASH ASSISTANCE
Tribal TANF Cash Assistance makes monthly cash payments to families with minor children based on family size and composition. Households must be below 200% of poverty guidelines. These benefits require participating adults to agree and to follow a case plan designed to move them away from assistance and to self-reliance. Cash Assistance has a 60-month lifetime limit.
TEMPORARY ASSISTANCE TO NEEDY FAMILIES EMERGENCY ASSISTANCE
Emergency Assistance is a one-time per fiscal year payment for participants receiving Cash Assistance and experiencing an extreme financial hardship, typically an eviction or utility shutoff. Future Cash Assistance payments will be made to the landlord or utility.
SNAP FOOD SUPPORT PROGRAM
The Supplemental Nutrition Assistance Program (SNAP) is a State of Minnesota program that the Aanjibimaadizing administers for our Cash Assistance families. This program provided cash assistance specifically for food purchases.
CHILDCARE ASSISTANCE
Child care assistance helps parents or guardians pay for child care. Aanjibimaadizing can pay child care centers, family child care providers, or family, friends or neighbors (FFN) that provide child care. Child Care assistance is not available in the Urban area at this time.
2021 Childcare Assistance Flyer
ADULT SUPPORT SERVICES
Adult Support Service payments are single payments to vendors to assist participants in overcoming specific, immediate and essential family stabilization or employment related barriers. Participant households must be below 200% of poverty guidelines.
The expenses must:
Be specific.
The participant must be the owner of the obligation.
Be directly related to education or employment.
Verified as not otherwise provided free of charge or available from other resources.
Be the only way available to meet the need.
Be documented with evidence of the need verified.
ADULT WORK EXPERIENCE (WEX) PROGRAM
The Work Experience (WEX) Program is a 720-hour on-the-job work experience training program structured to promote self-sufficiency through the development of appropriate work habits and job skills.
The program targets four critical work behaviors:
Reliability: I will report for work ready and fit for work at the time and worksite designated by my supervisor. I will be present and work ready every scheduled day.
Safety: I will abide by all work safety rules and demonstrate proficiency with an accident free work record.
Team Building: I will contribute to building and reinforcing the workplace team. I will be a valued member of the workplace, well regarded and trusted.
Achievement: I will meet the performance, quality and/or production goals set by my supervisor.
Participant households must be below 200% of poverty guidelines. The program's incentives are directly related to mastery of these four program behaviors. The program is designed to move the participant to unsubsidized, career-oriented work by building their work skills.
ADULT PARTIAL SUBSIDY PROGRAM
Participants who demonstrate that they are work ready and who are hired into career oriented, long-term, stable employment may arrange to have the first 720 hours of their new employment subsidized. These subsidies are paid to the employer, not the employee. A special contract with the employer is required that specifies the terms of agreement for the employer and Aanjibimaadizing. Participant households must be below 200% of poverty guidelines
CAREER TRAINING AND DEVELOPMENT PROGRAM
Aanjibimaadizing regularly provides basic work and family related trainings and tutoring. These include such issues as: GED preparation, drivers license tests, budgeting, parenting, CPR/first aid, food handling, communications and conflict management. Households must be below 300% of poverty guidelines.
YOUTH SUPPORT SERVICES
Eligible youth ages three through six who live in households that are below 300 percent of the Federal Poverty Guideline and who are enrolled in day care or school may receive supportive services for such things as:
New employment clothing and/or supplies when required by the employer
Driver's Education costs.
Athletic or academic program fees and supplies
Special tutor costs (such as individual music lessons)
Leadership, education or cultural camp costs, including tuition, travel and supplies (based on a program recommendation/required list)
Boarding school support costs including travel and supplies (based on a program recommendation/required list)
(For Cash Assistance Families only) a fall and winter school clothing assistance
GE-NIIGAANIZIJIG YOUTH PROGRAM
Ge-Niigaanizijig activities and regularly scheduled meetings are designed to inspire and motivate our youth to embrace a traditions based pro-social lifestyle free of chemicals, anti-social or risky behavior, promiscuity and dependency. These activities are offered to all eligible reservation service area youth from kindergarten through age 20.
Income verification is required. Children in families living at or below 200 percent of the poverty guideline qualify. Children who are over-income may be supported by the Mille Lacs Band of Ojibwe.
Cash incentives and awards are made to any Ge-Niigaanizijig youth who meet program participation and achievement goals.
YOUTH CAREER AND WORK EXPLORATION PROGRAM
Eligible youth, ages sixteen (16) through twenty (20) and whose family's income is below 200 percent of the Federal Poverty Guideline may participate in the Youth Career and Work Exploration Program.
Youth are given an incentive for actual hours worked. To be eligible you must be in school, making satisfactory attendance and grades. The type of work and the number of hours worked per week depend on the needs of the worksite supervisor.
An eligible household must include at least one adult who is
An enrolled member of the Mille Lacs Band of Ojibwe; or
If residing within the Reservation Service Area, a first generation descendent of the Mille Lacs Band of Ojibwe; or
An enrolled member of a federally recognized tribe; or
If residing within the Urban Service Area, an enrolled member of the Minnesota Chippewa Tribe.
Some potential services include:
Support Services,
Work Experience (WEX),
Career Development and Training,
WiiDoo Youth Activities, and
Youth Career and Work Exploration.
Veterans and veteran families, including survivor families, are given preference within any of these eligibility groups.
Eligible households must also reside within one of our federally approved service areas:
Reservation Service Area: Within one of the Minnesota townships of Aitkin, Benton, Crow Wing, Mille Lacs, Morrison or Pine counties, or
Urban Service Area: Within one of the urban Minnesota counties of Hennepin, Anoka, and Ramsey.
There are additional eligibility standards for various services outlined below. Financial eligibility is based on the household income with specific types of income excluded.
The Band's Elder Needs-Based Supplemental Income Program has its own special eligibility standards. (See below)